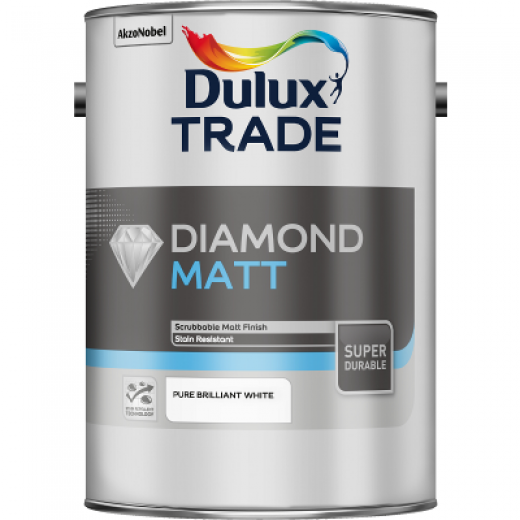 Finish: Matt
Size: 10 ltr, 5ltr, 2.5ltr
A tough, washable matt emulsion interior paint with 10 times the durability of silk emulsions. It is resistant to many common stains and will wipe clean without polishing up.

Applications: 2 coats.

Usage Details

Preparing the surfaces: To get the best results with Dulux Easycare Diamond Matt, make sure surfaces to be painted are sound, clean and dry (new surfaces particularly must be fully dry). Remove all loose and defective paint. Special precautions should be taken during surface preparation of pre-1960s paint surfaces over wood and metal as they may contain harmful lead.
Painting: Apply with a roller or brush.

Cleaning: Remove paint from the brush or roller with a cloth and then wash with water.

Storing: Store paint in dry conditions and protect from extreme temperatures.

Recycling: Don't waste unwanted paint! Leftover product may be taken to a Community RePaint collection point.

Dulux Paint Easycare Diamond Matt