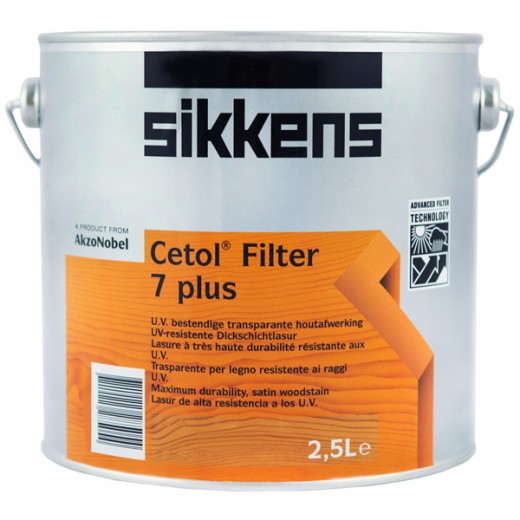 Size: 1ltr, 2.5ltr& 5ltr
Cetol Filter 7 plus is a medium build transparent satin top coat with added UV filters. Designed as the final two finishing coats over Sikkens Cetol HLSe. It remains flexible as timber moves and provides extra protection for timber exposed to maximum weathering.
Microporous allowing the timber to breathe while repelling unwanted moisture
Flexible coating which expands and contracts with the timber
Wood grain remains visible after application
UV and weather resistant
Simple maintenance
Oil based
Satin finish
Finishing coat:

Exterior softwood and hardwood substrates such as cladding, window and door frames, pergolas, posts and rails, fences, gates, garage and entry doors and fascia boards.
Coverage:

Smooth planed timber: approx. 10 to 16m² per litre.
Rough sawn timber: approx. 6 to 8m² per litre

Number of Coats:

2 over 1 coat of Sikkens Cetol HLSe
Dulux SIKKENS CETOL FILTER 7