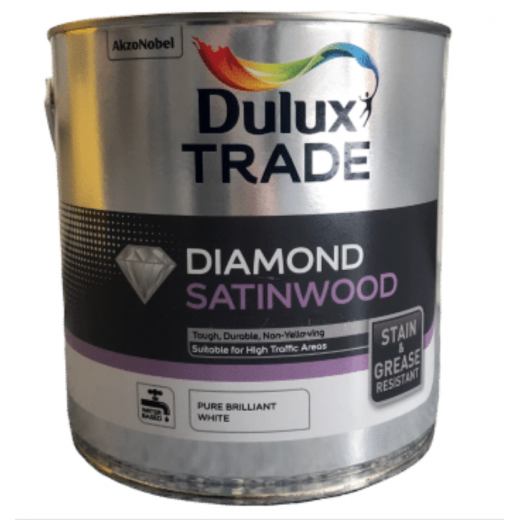 Finish: Satin
Size: 2.5 ltr and 5 ltr
Dulux Trade Diamond Satinwood is a tough & durable satin finish that provides excellent protection from scratches, stains and grease. The water-based formulation is designed to be used in high traffic areas, such as corridors, stairways and access areas, while having the added benefit of being quick drying with low odour. With professional aesthetics finish and non-yellowing water-based technology, it has never been so easy to switch to water based paints.

Applications: Apply by brush or roller. For best results use good quality synthetic (nylon polyester) brush or short pile synthetic/mohair roller designed for the application of water-based paints. STIR THOROUGHLY BEFORE USE. The normal finishing process is 2 full coats of Dulux Trade Diamond Satinwood. Where a strong colour change is involved then a coat of Dulux Trade Quick Dry Undercoat may be required.

Usage Details

Preparing the surfaces: To get the best results with Dulux Diamond Satinwood, make sure surfaces to be painted are sound, clean, dry (new surfaces particularly must be fully dry). Remove all loose and defective paint. Special precautions should be taken during surface preparation of pre-1960s paint surfaces over wood and metal as they may contain harmful lead. Where necessary, wash the surface to remove dirt, grease and powdery or dusty residues. Rinse with clean water and allow to dry. Seal surfaces that remain powdery after thorough preparation with an appropriate plaster sealer. Where necessary, rub down and then wipe off with a damp, lint free cloth to avoid dust.
Cleaning: After use, remove as much paint as possible from equipment before cleaning with water.

Storage: Do not use or store in extremes of temperature and protect from frost.
Recycling: When this paint container is empty please ask your stockist about recycling .If you have leftover paint, please dispose of it responsibly.

Dulux Diamond Satinwood