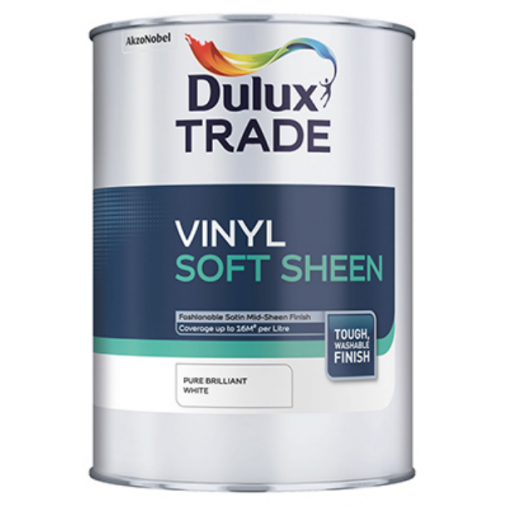 Finish: Soft Sheen
Size: 1ltr, 2ltr, 5ltr, 10ltr
A top quality, washable emulsion based on unique AkzoNobel technology with a fashionable mid-sheen finish. Where condensation is a problem, for example some kitchens and bathrooms, use Dulux Trade Diamond Eggshell, suitable for all normal interior wall and ceiling surfaces.
APPLICATION METHOD
Brush, roller, conventional spray or airless spray. As with other water-based paints, do not apply at temperatures below 8ºC
Cleaning: After use, remove as much product as possible from equipment before cleaning with water.

Storing: Do not use or store in extremes of temperature and protect from frost. To prevent spillage, please storeand transport upright.

Recycling: When this paint container is empty, please ask us about recycling. If you have leftover paint, please dispose of it responsibly.

Dulux Trade Soft Sheen Colour